Why put your bike away for the winter?
Convert it to a ski bike!
The most winter fun you will ever have is on your own bike!
Only a few sets left for this year so order soon for spring ski biking!

Want to try something awesome?
Ski bikes have been in existence for more than 40 years.They are accepted at over 2000 resorts in Europe and more and more resorts in North America are now allowing ski bikes. The first conversion kit was patented in the 1800's. Our Ski Bike Conversion Set converts your existing bike into a ski bike. It comes with everything you need to mount an old cut off pair of skis, ski blades (recommended), or kids skis onto your bike. 90-100cm are the recommended lengths used with ski bikes.
How it works.
Simply mount the front and rear assemblies to your desired skis as you would bindings onto skis or a snowboard. Remove the wheels, brakes, and crank assemblies from your bike. Mount the front and rear assemblies to your bike frame using the existing wheel mounts and the foot pegs to the crank assembly housing. Your "Bike to Ski Bike Conversion Set" will come with detailed instructions, and if you are just slightly mechanically inclined, it will be an easy install. (not compatible with 20mm front end drop outs)
How to Ride
If you can stop on skis or a snowboard or even a hockey skate type of stop, it won't take you long to get the hang of it. Your best bet is to hit the bunny hill for a couple of runs to get started. You will find that is is much easier to learn compared to when you first started skiing or boarding. At 52 years young, I have found this an easy learn and awesome way to enjoy the slope!
Check out this video !!!
http://www.youtube.com/watch?v=PCGy4WEG8gE&feature=related
Be a responsible rider!
The only way to get more ski resorts to accept Ski Bikes is to be a responsible rider!!!! (remember how long it took for resorts to accept snowboards)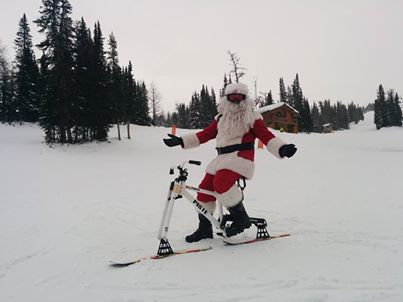 Look it's Saint Ric from Piste Ski Bikes
Ric custom builds ski bikes and gives lessons at Sunshine Village as well. Have a look at his site http://www.piste-skibikes.com/